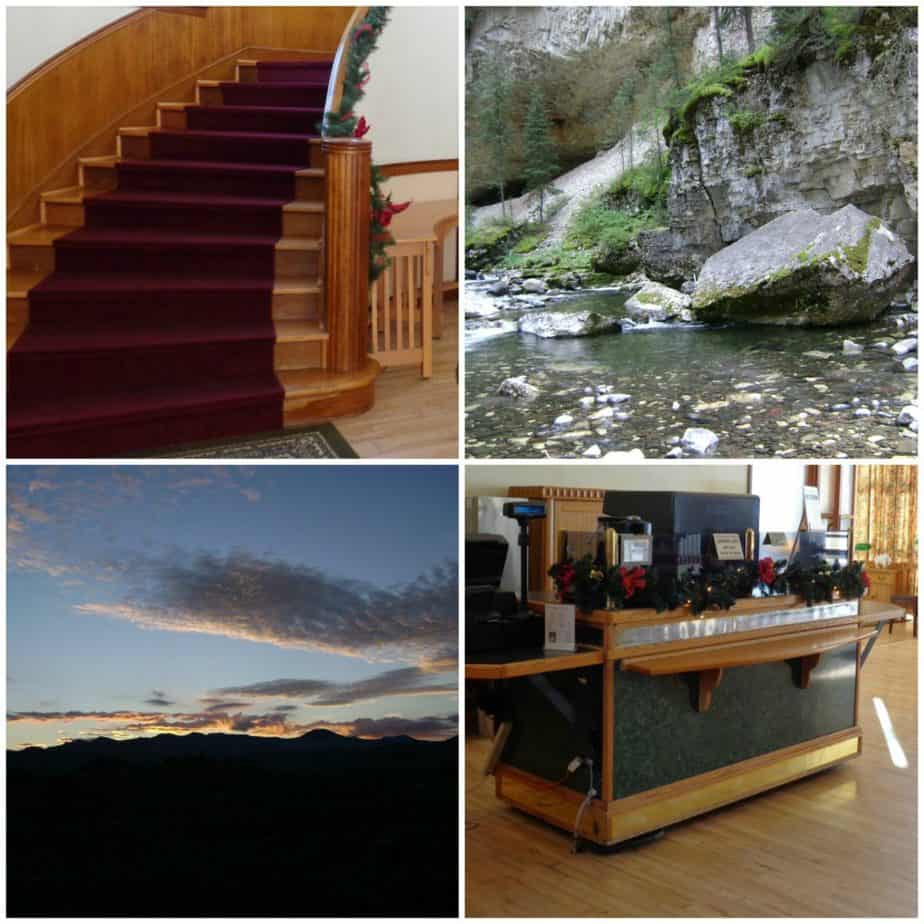 Steamy air radiated from the asphalt as we crossed the road in front of the diner. Dad and I had traveled to Yellowstone for a nature writing seminar and a quick stop at Mammoth Hot Springs for an ice cream cone marked the transition from our leisurely tour of the park and three days of learning at the Lamar Buffalo Ranch. Huckleberry ice cream cones in hand, we wandered over to the hotel to see if Randy Ingersoll was playing that evening. Inside the lobby, cool air carried the sound of music and slowed the purple flow of ice cream down our sugar cones. I could see Randy, but he wasn't playing one of his original, Yellowstone-inspired compositions. He was playing something different, something I knew but couldn't quite place.
We wove through the people milling around the more heavily decorated than usual lobby and into the Map Room where Randy sat at the piano. I waved and at the end of his song he stood and gave me a hug. He was wearing a tie.
I'd never seen Randy in a tie.
It was a Christmas tie. The song I hadn't been able to place? A Christmas carol. And the overly decorated lobby? Christmas greenery. In August.
It was August 25. Christmas in Yellowstone. I'd forgotten.
Once upon a time, Yellowstone had a summer snowfall. Actually, Yellowstone gets a lot of summer snowfalls. This snow, however, fell on August 25. People—park concessionaire employees, probably—got a little festive. They celebrated and they decorated. Now, every year, Yellowstone's establishments celebrate Christmas. It's not about commerce. It's about tradition.
According to park lore, for a lot of years, park concessionaire employees forded the Firehole River, hauled themselves up onto a boulder to decorate a tree which had managed to carve out space for its roots and its existence on top. The decorating was reportedly then undone by rangers who subsequently crossed the river and climbed the boulder themselves. It makes sense. There's nothing natural about a Christmas tree in the middle of a river.
Christmas in Yellowstone. I'd forgotten. Actually, some days–the balmy ones and the cloudy ones, the snowy ones and, maybe especially, the scorching ones–I forget about Christmas.
That makes me sad, because Christmas forms the bedrock of my actual, everyday life. It's as much the foundation in the middle of summer's hottest months as it is in December. Christmas is a celebration of a birth and a life, of a death and subsequent resurrection, of rebirth and new life. Christmas is not a one day deal.
It's a celebration of a baby, God's son, who came to earth to grow up, as baby boys do, into a man. He lived a fully human yet sinless life. He bore sin on his shoulders and suffered separation from His father. He died an unjust but necessary, sacrificial death to pay the debt for our sin so that we could—once again—be in relationship with God. And after three days, God raised him from the dead.
That's something that matters every day. I live with the mercy and grace of Christmas every day, but sometimes I forget to remember Christmas. And Christmas is worth remembering all year long.
If you'd like encouragement to remember Christmas in the coming months, I have something for you: I've recorded three short Christmas audios that can be delivered right to your inbox on the first of October, November, and December. If you'd like to receive these, just email me at natalie at alongthisroad dot com (or click the email icon at the top of this page) to let me know. I'll get you all set up.
Linking at Lyli's place today.