It was one of the first hikes we took together, my husband and I. It wasn't long—only a few miles, but the one stretch was steep. The descent wasn't bad. The destination—a steel suspension bridge spanning a canyon in the middle of wilderness—was worth the trip down and even back up. Still, that thigh-burning return trip reigns in my memory, especially when we consider taking any trail with the word "steep" in its description.
Draped across the slope like twinkle lights on a Christmas tree, switchbacks supposedly moderated the mountain face into a more manageable grade. I trudged up one swath, turned and took the next, and the next. With every step, I tried to remember how many of these hairpin turns we'd made on the way down so I could gauge how much further it was back to the top.
Eventually, I just stopped. Not to rest. I'd already done that. I stopped to assess.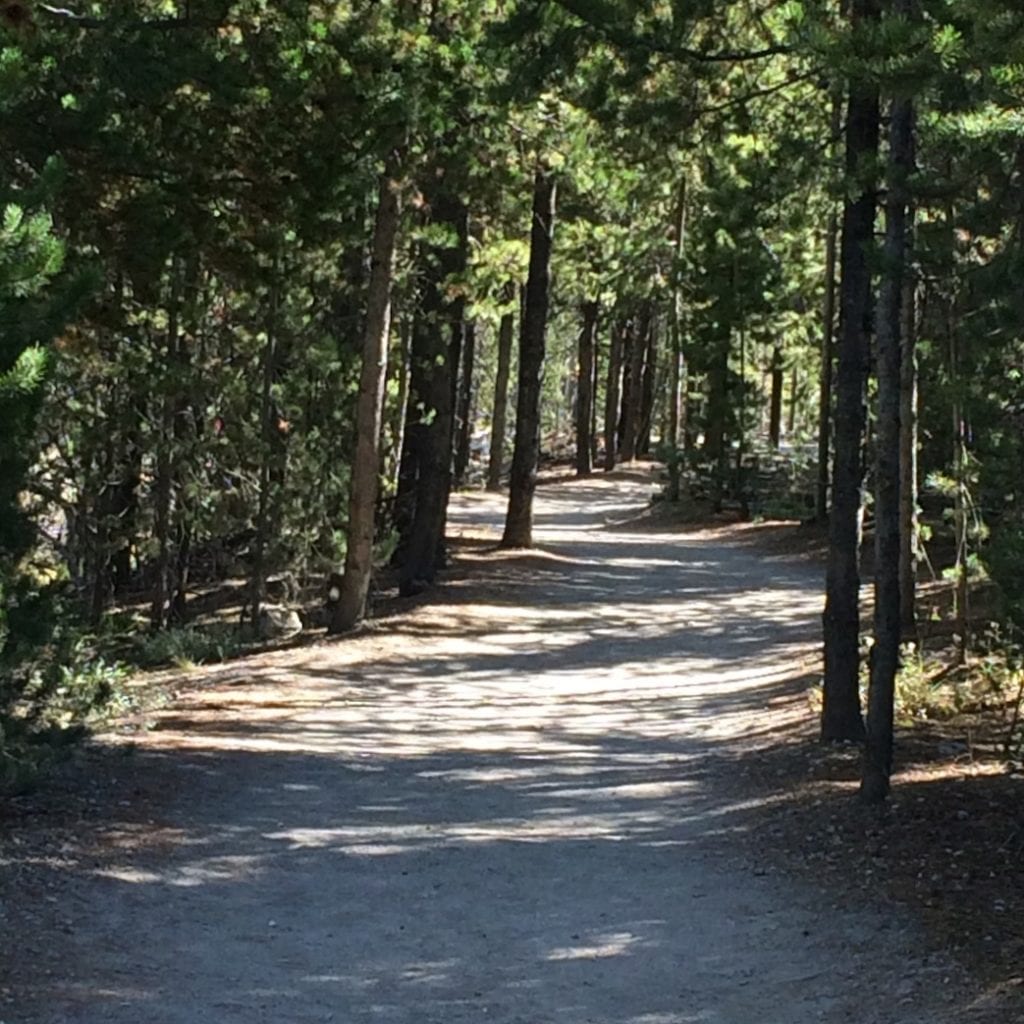 The path ahead looked exactly the same as the ground we'd covered since the last pivot, unchanged from what we'd been passing since we left the flats near the bridge. Dense lodgepole pines camouflaged the end of the trail, making it impossible to see how far we had yet to go. With a deep sigh, I wondered if we'd ever get there, if our trudging was taking us anywhere, if we were making any progress.
Then I turned around.
Looking back, the vista was clear and open, From my vantage point, I could see the trail we'd already walked, the meadows in the valley below, and the pine-covered mountains in the distance. No, we hadn't reached the trailhead but we'd come a long way. I turned toward the trail with renewed energy. A little perspective on my progress gave me hope that spurred me on.
* * *
We're on the cusp of the New Year. I don't know about you, but my inbox is filled with messages bombarding me about the future. Messages encouraging me to make resolutions, set goals, or choose one theme word for the year. Messages recommending the rejection of resolutions, goals, and words. Messages reminding me that sometimes the New Year's hoped-for new leaves don't look all that different than the ones that have failed to fill out before.
For some, this aspect of the New Year can be exciting—exhilarating, even. For others, it's overwhelming or even discouraging, especially if we find ourselves wanting the same things, working toward the same ends, wishing for the same do-overs as last year and the year before and maybe even the one before that.
Maybe it's time to turn around.
I don't know about you, but when it comes to goals, I tend toward destination setting and course-correcting more than resolution-making.  The trail is teaching me to pause, look back, and assess. Because even setting—or not setting—goals is part of the life of faith.
And no matter how badly I wish it wasn't so, when it comes to walking by faith, there is no formula, no set of easy steps, no one size fits all plan of action. There is, though, pausing as we go. There's paying attention to where we are, what we've walked through, and where we're headed next. And there's pressing on toward the prize—including a full life of detours and scenic routes along the way.
Whether this time of year, with its focus on resolutions and goals, leaves you hopeful or discouraged, consider taking a few moments to turn around. Look at where you are in light of where you've been and where you want to end up.
You might be surprised by what you see.
Happy trails. Happy New Year. 🍃
---
Ponder the path of your feet; then all your ways will be sure. Proverbs 4:26