Because each of our children made their first trip to Yellowstone when they were toddlers or younger, we've developed some favorites over the years, along with some strategies for keeping everyone motivated and mobile on the trail. Below are some tips for hiking with littles, along with a few of our favorite kid-friendly hikes. 
Tips for Hiking with Kids
Distance: There is a limit to how far little ones can walk, especially in the mountains, where the trails almost always seem to go straight up—or down.

 

One guideline I came across for how far kids can hike is this: one half-mile for every year of age. This may be less on a trail that gains or loses elevation.

 

Pace: S L O W. They may run ahead, but in the end their little legs mean they move more slowly than we do.

 

Take breaks: My kids love to take breaks. They don't have to be a long one,  but they do like to find a log or a rock and sit down. Bonus: It's a good opportunity to make sure everyone is hydrated. 
Bring plenty of water and a good supply of trail food.  Make sure they–and you–stay hydrated and fueled. (If you're into such things, you can read about a trail fuel failure that frequently comes back to haunt me in the form of a "Do you remember that time . . . " story at the dinner table. Find it here.)
Pro tip: Even if your child is technically beyond the stroller stage, consider packing a small one for use on the plentiful boardwalks. This conserves energy for the little ones because they get a break. It also keeps weary grownups from carrying a worn-out kiddo. Strollers also allow for an occasional much-needed cat nap, therefore cutting down on the potential for fatigue-induced meltdowns.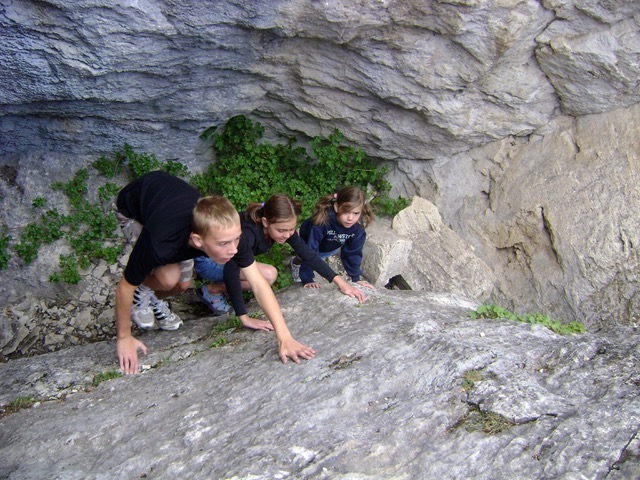 Kid-Friendly Hikes
Artist Paint Pots | 1 mile partial loop beginning and ending at the same trailhead: Off the road and away from the crowds, this thermal basin has long been a favorite of our kids—and us. Mostly flat with one fairly gentle up and down, this earthen trail winds through colorful thermal "pots" ranging from thin to gloppy. According to my youngest daughter, this trail offers a little bit of everything—dense woods, open sky, colorful pools, and thick pots. Also, my twenty-one-year-old daughter told me that I really ought to move this hike into first position because that's where it sits in the minds of her and her siblings.
Wraith Falls | 1 mile there and back, beginning and ending at the same trailhead:  Mostly flat with a short climb up some steps and a good view of the waterfall, this short trek into the wilderness gives a lot of reward–especially for the young, the weary, or for those wanting to get in just one more hike. Find my friend Joy's post about Wraith Falls–complete with her lovely photos–

here

.
Natural Bridge | 2.5 miles, partial loop beginning and ending at the same trailhead: Mostly flat with a partial loop, the view is different on the way out than it is on the way in. 

Engaging for kids

, the destination is an unusual feature, a naturally occurring rock bridge in the woods. Note: This trail is located in the heart of grizzly territory, so check for warnings and closures at the Fishing Bridge Visitor Education Center. Also important: The bridge is for looking at, not walking on
Storm Point | Just over 2 miles, loop beginning and ending at the same trailhead:  Flat and fun, we've seen both marmots and bison from this trail. This trail winds both through pine forest and along the shore of Yellowstone Lake. Note: Like the Natural Bridge trail, this is located in the heart of grizzly territory, so check at the Fishing Bridge Visitor Education Center before setting off.
Happy trails!
Additional Resources
For more information about short day hikes in Yellowstone, check out 

this

online guide from the National Park Service.
Feeling overwhelmed by planning your Yellowstone vacation? Let me help you map out a satisfying Yellowstone experience. For more information or to schedule, contact me here.