My legs rebelled at the unfamiliar sensation of sand rearranging itself under my feet. For my family, a typical hike meant packed-dirt paths through deciduous woods in Iowa or evergreen forests out west, not shifting sand in a desert canyon. But here we were, tackling new terrain. We walked along, faces tilted toward the slim slice of sky.
We were at Capitol Reef National Park, hiking the narrow passageway of the Capitol Gorge trail. At the turnaround point, we noticed a sign for a spur trail. We could turn around or we could continue two-tenths of a mile up a switchbacked path to see some natural water tanks at the top. I was worn from the unfamiliar and untrained-for terrain, but two-tenths of a mile isn't very far. It's the length of our lane—the distance of the daily trek to the mailbox. So, weariness aside, I agreed with my husband and daughter that we should head on up.
This is where I learned—again—that not every two-tenths-of-a-mile stretch is the same.
Because the months leading up to this trip had been filled with multiple health crises in our family, I wasn't at my best. The spur trail was short but torturously steep and when we finally reached the top, I just wanted to glance at the water tanks and return to the comfort of the car. But there were no water tanks to be seen. We were, apparently, supposed to look for them. I despise looking for things. My husband and daughter, however, do not, so I convinced them to go ahead without me. I would be quite happy to sit on the smooth, sloping sandstone and enjoy the view while they searched.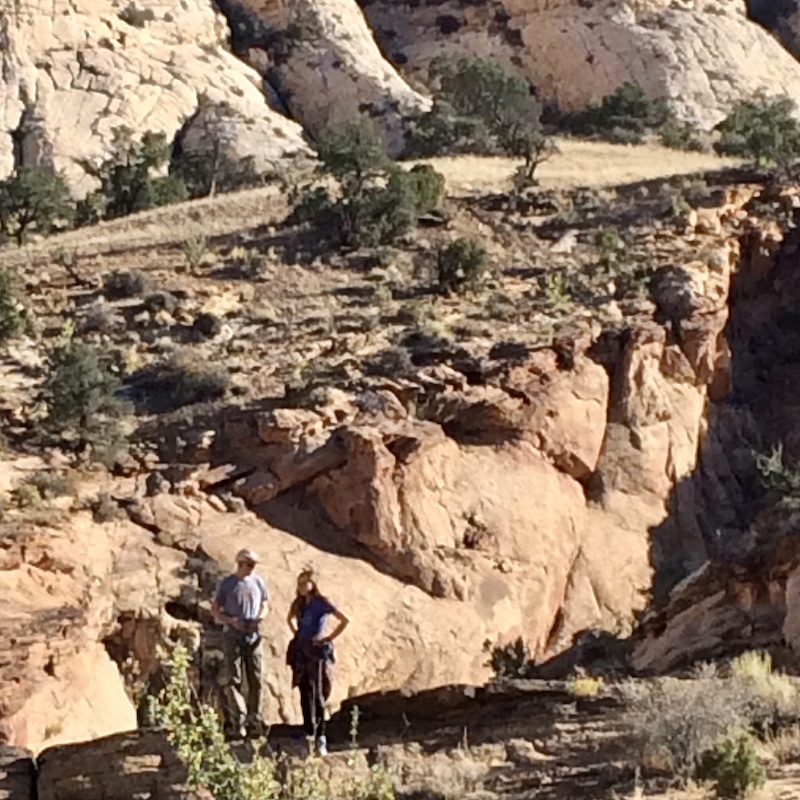 Equally satisfied to simply be outdoors as do outdoors, I stretched out on the sun-soaked rocks, content as a cat. I watched the sky and studied the surrounding landscape. And then, with an adrenaline-releasing jolt, I remembered. We were in the wilderness, the desert of Capitol Reef National Park—the very first place I had seen warnings about mountain lions. This is where I'd learned, twenty years before, that a mountain lion's motives and methods differ from those of a bear. A bear will often bluff charge. If a mountain lion comes for you, it plans to eat you. And while the recommended course for keeping a bear encounter from becoming a bear mauling involves appearing non-threatening, the opposite is true with a mountain lion. The prescribed course there is to look as large possible—and to be ready to fight.
And there I was, lounging on a rock in the sun, looking like lunch.
I'd been operating on autopilot, giving little attention to the terrain we were traveling. We were walking in the wilderness. I'd been enjoying the beauty but forgotten that much of the beauty of the wilderness comes from the wild. I'd lost track of where we were and what that meant, which was that I needed to stand up and pay attention, to look large and feisty, not small and frail. I needed to be aware.
This is as true within the landscape of daily life as it is in the desert of southern Utah.
"Be sober-minded; be watchful," Peter tells us. In other words, be aware. Engage. Why? Because "your adversary the devil prowls around like a roaring lion, seeking someone to devour." (1 Peter 5:8 ESV)
Whether hiking in the wilderness or walking through our life, we're always traveling unfamiliar terrain. We're always getting older. So are our parents. And our kids. Someone we live with, worship with, or work with is bound to be wrestling with something. And we face a carousel of crises, large and small, leaving us at less than our best. So no matter how monotonous life may seem, nothing is ever, ever the same.
With an adversary on the prowl, failure to pay attention to the terrain can yield disastrous results. We don't want to be caught lounging on a rock, looking like lunch.
Here's the good news: we don't have to. Even amid the distractions of the day and our tendency to become discouraged or disengaged, we can travel the topography of life with attention and intention. We can stay aware that every interaction, every decision, every event presents an opportunity to navigate by faith—one we can take. Or not.
And that's how we can engage the terrain this season, whatever this season is: with awareness. Whether hunting or harvest, Christmas or Covid, sickness or health, hardship at work or school or home, every big and little thing provides an opportunity to respond with intention rather than react by force of habit, a chance to navigate by faith rather than get by on autopilot. The question is this: Will we recognize the opportunity or be caught lounging on a rock, looking like lunch?
Linking with the writers at Anita's place.