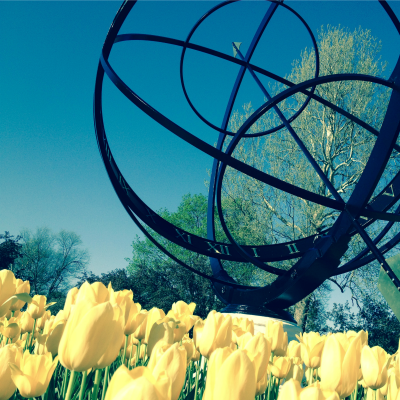 Yesterday I hurried into Walmart for a few things and emerged–much more slowly–pushing a cart. Right outside the door I caught the fragrance of something I'd seen but not stopped to appreciate on the way in: flowers for sale. It was the scent of spring.
I try, with varying degrees of success, not to focus so much on the difficulties of a season that I miss out on the good. This winter, with its perpetual grey skies that delivered more rain than snow, proved hard not to wish away.
Already the best gift and amazing grace of spring is that it arrived, just in time to remind me that seasons were God's idea, and that as long as there are lights in the heavens to govern them, seasons—no matter how long or weird or uncomfortable—will end.
So I'm thankful for spring, for days that can be counted on to get a little longer as they pass, for green that marches across the grass and through the treetops toward my doorstep, for teasing, balmy air. What I'm grateful for this Spring Which Followed the Greyest of Winters is that no matter the nature of that cold season, spring always comes again.
Gifts of Spring: A Short List of Things to Count On.
Evening light. Glory.

Rain. Even though it brings clouds.
Growth: Even when it brings growing pains.
Girls that want to go outside. During school. A lot.
Change. Even though I never like it. At first, anyway.

Buds on the branches. Calves frolicking in the pasture. Mama cats looking for place to shelter tiny kittens.
And you? What gifts, graces, and even glitches is this season bringing your way?