Crossing the gravel parking lot, Dad and I turned toward the Gardner River. Worn by wildlife and fly fishermen, the narrow path that paralleled it wasn't an official trail. We knew it only because of the hours three generations of our family had collected here at Sheepeater Cliff Picnic Area, lunching and exploring near the base. Basalt, the volcanic rock that formed the cliff, breaks vertically into neat columns and horizontally into blocks. Over time, these fractures formed a rugged wilderness staircase that my mountain goat-y children and husband like to scramble up.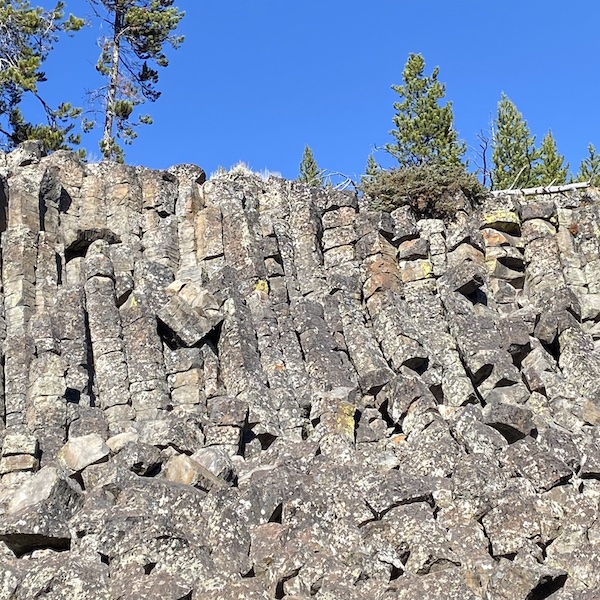 Dad and I hadn't gone far down the trail before it turned, revealing a second bank of columnar basalt. Stretching as far as I could see, it dwarfed the one we'd left behind at the picnic area. I stopped and stared. Standing there, I tried to take in its immensity. At the same time, I tried to understand how it was that I'd been down this trail twice before yet had no memory of this place.
I believe in the importance of attention. There's something to see—and not just in places like Yellowstone. There's something to see in our own backyards and our everyday lives. How then, did I miss this Great Wall in the wilderness? I knew the answer, and it troubled me: autopilot is easy and attention is hard.
This is why, when I read the new bear-aware sign in Yellowstone asking me if I was prepared to avoid an attack, I knew that I was not—not on the trail and not in life.
The first directive on the ominous yet oddly comforting BEAR ATTACK: Are you prepared to avoid one? sign (read part 1 here) was this: Be Alert. It seems simple enough, yet, clearly, this is something of a struggle. Of the five, it's the hardest for me to do. Scenery, boredom, and fatigue all conspire to call my attention away from watching for bears on the trail, as well as signs that they may be nearby. (So you know, bear signs include fresh tracks, scat, or claw marks on trees, newly torn up logs or digging sites, and carcasses—buried or out in the open.) Bears are wild creatures, making this level of autopilot a risk hikers can't afford.
It's true on the trail and it's true in life.
We have an enemy. He's on the prowl, and to save us from becoming prey God tells us to be sober-minded and watchful. In other words, alert. Perhaps you're like me, and alert is not your natural state. Perhaps you, too, are prone to distraction and drift. Perhaps you sense the threat these two pose to our ability to be prepared to navigate everyday life by faith.
In Yellowstone, bears can be anywhere, anytime, but not everywhere all the time. We don't know when we'll see one or where, so we need to watch so that when we encounter them, we'll be prepared and ready to respond appropriately. In life, it is much the same. If we want to be prepared—to navigate the ups and downs of daily life by faith rather than by fear, feel, or anything else, we need to walk with our eyes open–aware.
To that end, here are three things to keep in mind:
Decide how you want to walk. By faith? Fear? Autopilot? Something else? Just as we build physical muscle by using physical muscle, we build spiritual muscle by using spiritual muscle. Know how you want to walk and keep walking.

Remember that awareness is a discipline. Alertness comes more naturally when mind and body occupy the same space. Practice living in the present. Racing into the future and lingering in the past are easy. Autopilot is easy. Navigating the current moment faith-fully requires some muscle.

Pay attention to where you are—literally, figuratively, and spiritually. We're in lion territory. Trials and momentary difficulties pop up when we least expect them. As Russell Moore said, "

In many ways, the more tranquil you feel, the more endangered you are."

The more alert we are to where we are and what's going on in our lives and around us, the more prepared we will be to respond in wisdom and faith.
I've put together a 5-scripture printable to accompany the Bear Attack! Are you prepared to avoid one? series. You can access it (and a few other things!) here.
🧭 When it comes to navigating the landscape of your life by faith, what's your biggest challenge–distraction, fear, or something else? What do you do to course correct when you start to drift?
take heart & happy trails ~ Natalie 🥾
This is the second in a series Bear Attack: Are You Prepared to Avoid One? Read part one here.
I usually link with the writers at
Let's Have Coffee,Tell His Story,
Inspire Me Monday, and Grace & Truth.
Are you an armchair traveler? Would you love to learn what hiking Yellowstone's trails teaches about walking by faith in everyday life?
Get a photo journal (with excerpts!) from Natalie's October 2022 Yellowstone adventure.
Keep tabs on Natalie's Yellowstone memoir-in-progress and receive Lessons from Yellowstone to help you navigate the ups and downs of daily life by faith.