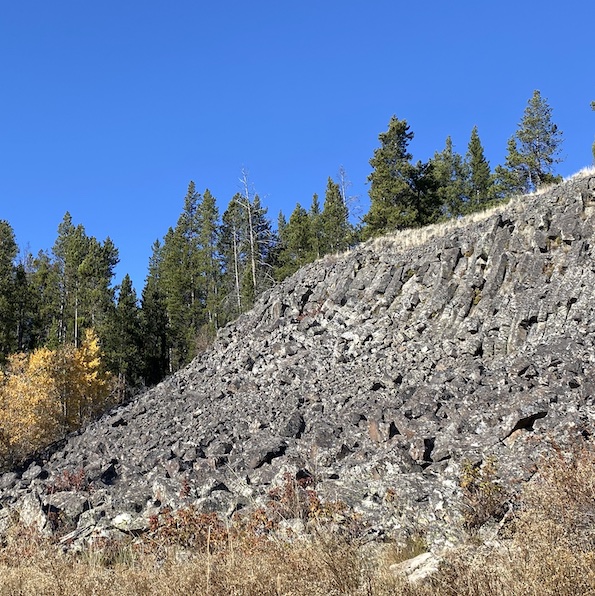 "You've got a griz!"
The call came from the picnic area below—just seconds after I had discerned that the brown shaggy head and shoulders cresting the hill twenty-five yards to my left was not, in fact, a bison. It was a bear. Wherever it was headed, we were in the way, and we needed to move.
There we were—my husband and me, flanked by our two young daughters with our son several yards deep into the meadow, beyond. Standing on the edge of Sheepeater Cliff, we were, in every way that seemed to matter, alone. Oh, there were people at the base of the cliff—a whole busload of them, some there for a class and a couple who worked in Yellowstone. Even so, they couldn't do anything to help us.
We were on our own. With the weight of the wilderness heavy on me, I felt defenseless.
Park regulations require park visitors to stay at least 100 yards away from bears. Parental wisdom called for the same. Keeping the distance was up to us. Our clifftop location made this something of a challenge because some, but not all, of us could descend the face of the cliff. Our only choice was to turn and walk, a move that proved less helpful than I had hoped. The bear just followed along behind us. Bigger than us and created for the terrain, he got closer to us with every step.
Spoiler Alert
We made it. (The full story is in the Yellowstone book I'm writing. Click here to receive a photo journal of our last visit to the park.)
I could have kissed the ground when we got to the parking lot. No one paid a bit of attention to us—a small grace for which I was glad. They were all busy watching the bear. He'd continued on to the river. We'd just been in his way.
We didn't have to feel defenseless. We didn't have to be defenseless. We owned bear spray—bear spray that would have caused him to turn and walk the other way. But the bear spray was in our SUV, not with us. We could see our vehicle from the clifftop, but that didn't help us when we came far too close to a bear.
True on the Trail. True in Life.
We always take bear spray when we're on the trail. But we weren't hiking that day. We'd simply started climbing after a picnic lunch in a place we'd picnicked and climbed dozens of times. It was a place that felt more like our backyard than the wilderness. It was a place where we felt comfortable and safe. We were too comfortable. Isn't that when we're most likely to blow it? It is as Russell Moore wrote: "In many ways, the more tranquil you feel, the more endangered you are."
My husband and I learned the truth of that statement the hard way and we treat our bear spray a little differently these days. We don't just take it out on the trail. We keep it close—even when we're not headed into the backcountry.
A bear is not the same as a lion, but the principle applies.
God has granted us everything (everything!) we need for life and godliness. Having it is not the same as being prepared to use it. We can know the verses, the principles, and the precepts. We can know who God says he is. We can believe God is with us and for us. But if we leave all that behind in the metaphorical vehicle, we won't be prepared. It won't do for us what we need when we come face to face with the prowling lion.
🧭 Something to ponder: What do you need to need to change so you are prepared to use what God has granted you as you navigate the ups and downs of everyday life by faith?
Happy trails ~ Natalie 🥾
His divine power has granted to us all things that pertain to life and godliness, through the knowledge of him who called us to his own glory and excellence. 2 Peter 1:3
This is the fourth installment of the Bear Attack: Are You Prepared to Avoid One? series. Click to read parts one, two, and three.
I join with the writers at these links.
Are you an armchair traveler? Would you love to learn what hiking Yellowstone's trails teaches about walking by faith in everyday life?
Get a photo journal (with excerpts!) from Natalie's October 2022 Yellowstone adventure.
Keep tabs on Natalie's Yellowstone memoir-in-progress and receive Lessons from Yellowstone to help you navigate the ups and downs of daily life by faith.